Become the one of Sigma Software!
Are you ambitious, ready for challenges, and eager to work in an awesome global team and grow professionally?  Join Sigma Software in Latin America. Our company is a global software development company founded in 2002, with offices in 12 countries, including Sweden, Ukraine, the USA, Canada, UAE, Poland, and other locations. Our company provides top-quality software development services to customers in various business domains. 
These include government, telecommunications, media & advertising, aerospace, automotive, gaming industry, banking and financial services, real estate, tourism, and entertainment. Join us remotely or in our working spaces in Brazil, Argentina, or Mexico to create best-in-class solutions for world-known companies like IATA, SAS, AstraZeneca, Volvo, Scania.
Explore your opportunities with Sigma Software!
We are a Swedish company with offices and clients all over the world
We work with diverse domains, product houses, enterprises and startups
We invest in education and help people to grow with Sigma Software University

100 the global outsourcing
Join our events in Latin America
events in Latin America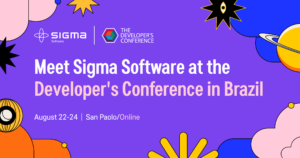 We are happy to be the partners of The Developer's Conference (TDC), the largest event related to software development in Brazil taking place on August 22-24 in San Paolo. The conference connects the community, speakers, tech and product companies on a single platform, empowering the local ecosystem of each region where it is held. Come and meet us at our TDC Booth on August 22-24 in San Paolo and online!
Sigma Software is well-known as one of the top IT companies in Ukraine. We've already built a vast tech community in Ukraine with its people, atmosphere, events, and support. Currently, we expand the community to the European and American tech markets and launch online and offline events there! We also plan many more exciting events in Latin America, so stay tuned!
Refer a friend and get a €1,000 referral bonus
We provide premier value IT services, keeping the focus on helping our customers reach their business goals. And we believe that our values help us to implement this mission.
Our team is built on professionalism and mutual respect

We appreciate autonomy of decisions our people make

Trust, commitment, and openness: we keep our promises

We embrace non- discriminating  policy and welcome all cultures and personalities

We follow Social Responsibility principles, and support local communities and social initiatives
Tell us what you are
looking for?
Tell us who
you are