Join Sigma Software's Java community
Are you ambitious, ready for challenges, and eager to work in an awesome global team and grow professionally in our European Java community?  Join Sigma Software in Europe. Our company is a global software development company founded in 2002 with world-known customers such as AstraZeneca, Scania, SAS, Fortum, DanAds, Viaplay, and others. We create best-in-class tech solutions and integrate 20+ existing products of our portfolio. We help enterprises to digitize their businesses and support startups in their growth.
We're constantly growing the level of our expertise, becoming stronger as a European Java community, nurturing talents, and gaining new exciting opportunities & clients. Our upscale team of developers is promptly expanding and we're looking for like-minded and talented Java engineers who want to dive deep into new technologies and choose their own direction of growth.
Does this approach match your idea of the dream job? Then go for it and join us!
Meet Sigma Software at CloudBuilders on August 23!
CloudBuilders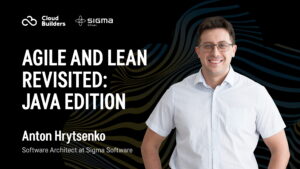 In the wow-conference-lineup, there is our leading Software Architect and speaker, Anton Hrytsenko! Anton will uphold the topic "Agile and Lean Revisited: Java edition".
In this discussion, we will go through the key findings over the last years that lead to the elaboration of specific practices. Also, we will discuss the impact of these decisions on software design and development.
 Register for free OR buy a charity ticket = donation to support Ukrainians
Take a quiz and win cool gifts
gifts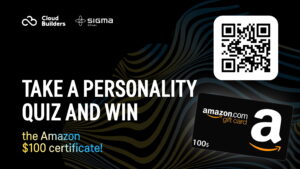 Take a Java Personality Quiz to discover who you are in the Java world and get a chance to win a $100 Amazon certificate.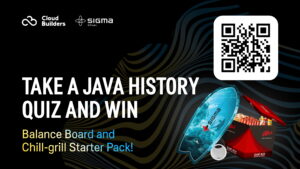 Take a Java History Quiz and get a chance to win a balance board & chill-grill starter pack.
We are a Swedish company with offices and clients all over the world
We work with diverse domains, product houses, enterprises and startups
We invest in education and help people to grow with Sigma Software University
100 the global outsourcing
As a Swedish-Ukrainian company with offices in 12 countries around the world, Sigma Software has experience of coordinating distributed teams and establishing efficient remote work.
For now, our aim is to extend existing offices and establish new ones in Europe to invite IT specialists from different countries willing to join an
international IT services company, working with world-known brands like DanAds, SAS, IATA, Volvo Penta, Scania, and others.
We have offices in 12 countries, including Poland, Czech Republic, Bulgaria, Sweden, Portugal, Ukraine, the USA, Canada, and other locations. Join us in one of these countries or remotely from any corner of the world.
Join our department and choose any career development you want:
With us you can be a developer, team lead, principal engineer, competence lead, or architect.
Every developer in our unit has a mentor and their own career path.
You can constantly grow your skills & knowledge knowing that there is a high-maturity developer on your side.
You can contribute to the Java community: develop people as a mentor, share your experience as a speaker and be the driving force of the top-grade Java developers team, or be an active listener.