The history of our company began over 19 years ago. Since then we have completed more than 2,000 projects for clients in various business verticals, opened offices in 10 countries, on 3 continents. Today our team inlcudes over 1,500 specialists.
Who we are?

Sigma Software is a Swedish company of Ukrainian origin. We develop cutting-edge IT solutions and provide IT consulting services to our customers worldwide. Today the company has representative offices in many locations from Australia to the West Coast of the United States. We work with startups, software houses, and enterprises. Company`s R&D centers are mastering trending technologies and directions: Infotainment, Blockchain, Machine Learning, Data Science, Artificial Intelligence, and others.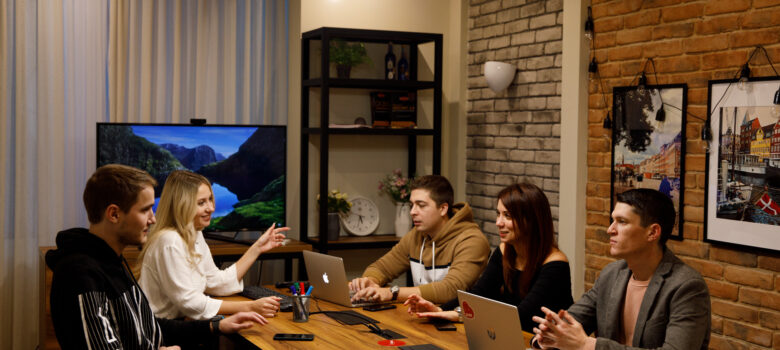 OUR MOTTO - NORDIC TRADITIONS, UKRAINIAN SPIRIT, SUPERIOR SOFTWARE
We combine the best practices and approaches from Ukrainian and Swedish cultures to create advanced solutions. High-quality requirements, minimal hierarchy, freedom of decision-making, and attention to every opinion – these features are from Swedes. As a Ukrainian company, we demonstrate flexibility and readiness to overcome new challenges.
WHAT MAKES US DIFFERENT? DIVERSITY IN EVERYTHING
You can choose a project, direction, technology … what is close to you and what brings you pleasure every day. There is a variety of opportunities for you because we:
• Work in dozens of domains (Aviation, Automotive, Gambling/Gaming, Telecom, Finance and Banking, Advertising, and others). You can study one domain endlessly or multiple areas at the same time.
• Take part in various projects – short-term and long-term, small and large, interesting, trending, challenging, and mostly non-trivial.
• Discover the specifics of working with different types of businesses – startups, product houses, enterprises.
• Have worldwide communication with clients, learn mental and cultural diversity.
• We embrace new technologies and improve mature ones. 
WE ARE A TEAM UNITED BY THE SAME VALUES ​​AND APPROACHES
Even though we're all different, we complement each other:
• We are not used to giving up, so we are not afraid of difficult tasks and demanding customers.
• We are fast, flexible, and ready to take responsibility – for a task, project, expertise, direction. Being passionate about your project, trying to understand the needs of the client are the keys to successful development and the desire to return to work every day.
• We are the company of professionals, who always have something to learn from. The company encourages professional growth and provides a lot of opportunities. Anyone who wants to – can find everything that drives and inspire him or her.
• We respect each other and are open to communication. You can easily step up to any manager in the company and talk to him or her on any topic that concerns you.
• We are not afraid to make mistakes. The main thing is not to repeat them twice.
A FEW FACTS ABOUT OUR DNIPRO OFFICE
• It is located in a new business center on the banks of the Dnipro River.
• We have both internal and external technology communities. The company gives opportunities to improve not only as a pro in your field but also as a mentor, coach, and speaker.
• We use an extensive professional library, a base of educational materials.
Come, get acquainted, and stay with us! 
+38 (068) 894–3316
53 Sicheslavska Naberezhna Str.